Welcome to Fair Housing Helper!

As a landlord, property manager, leasing agent, or other
busy apartment professional,
you've got enough on
your plate already.
You know that
running a successful property
,
attracting prospects
, and
dealing with tenants
takes
a lot of time—and an even greater amount of care.
So when it comes to fair housing compliance,
you've
got better things to do than worry.
That's why Fair Housing Helper
was started back in 2007—
to help professionals like you.
Fair Housing Helper gives you the answers you need to avoid costly liability AND the ability to show a judge you take compliance seriously.


---




Discover the answers to these
questions and many more:

What phrases should I avoid when advertising?
Can I reject foreign-born applicants?
Do I have enough accessible parking spaces?
Must I let a tenant keep a dog for his disability?
Can I require one bedroom per child?
Can I turn away prospects with HIV or AIDS?
How do I deal with illegal drug users?
Will I get fined for having only white tenants?
Can I deny children at my senior community?
Can I turn away Section 8 voucher holders?
Does an openly gay tenant have rights?
Do I need to install grab bars in bathrooms?
Can I decorate my building for the holidays?


Please choose the
fair housing compliance training option
that works best for you...


OPTION #1: OPTION #2:
Train by Book OR Train in Person
OPTION #1:
Train by Book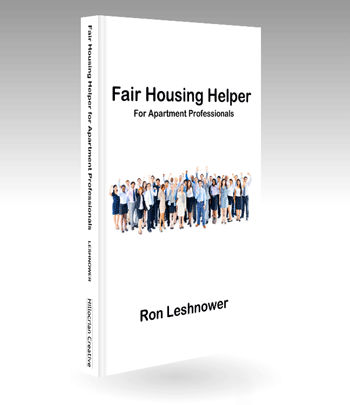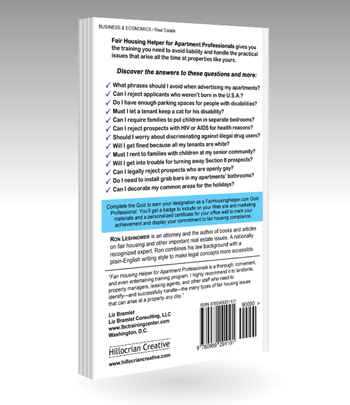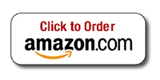 Fair Housing Helper for Apartment Professionals is a highly affordable, comprehensive fair housing training program in the form of a convenient, interactive book (paperback and eBook). Written by author-attorney Ron Leshnower, the book is carefully designed to help landlords, property managers, leasing agents, and others who interact with renters or apartment hunters on a regular basis.

Readers who complete the book's quiz earn their designation as a FairHousingHelper.com Gold Professional, which entitles them to a badge and a personalized Certificate of Training to display their professional commitment to fair housing.

Follow the simple instructions in the book to get your free badge (pictured below, left) to include on your Web site and marketing materials as a testament to your achievement and to display your commitment to fair housing. You'll also get a full-color certificate bearing your name, which you can print to frame and hang on your office wall to attest to your new designation.
In the unfortunate event of a lawsuit, a purchase of Fair Housing Helper for Apartment Professionals can also help bolster a reader's credibility with a judge to avoid costly punitive damages.
"The book offers plenty of good advice in plain English."

"[T]he quiz format makes learning the law fun and easy to digest…"

"A useful, easy-to-read guide for those who want to learn
more about complying with U.S. fair housing law."

—Kirkus Reviews
WATCH THE VIDEO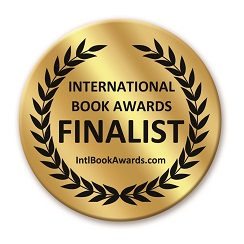 How Can Fair Housing Helper... Help You?
FHH gives you knowledge. Fair Housing Helper tells you what you need to know by guiding you through a series of multiple-choice and true-or-false questions... Rather than read a lengthy text, you start with a question, take your best guess, then read the helpful explanation of answers... You move onto the next carefully constructed question, and then the next... Before long, you'll understand the ways members of "protected classes" are indeed protected, how to avoid illegal practices such as steering and linguistic profiling, how to handle potentially explosive issues with service animals and occupancy requirements, and more.

Fair Housing Helper gives you the know-how to spot discrimination traps at your property—and the strategies to take the right action to prevent hidden issues from turning into major wallet-busters.
FHH gives you confidence. Enjoy the peace of mind that comes from being in control. As you take the Fair Housing Helper quiz and familiarize yourself with the reasoning behind the correct answers, you can rest easy knowing that you're becoming more aware of potential discrimination issues at your property and how to deal with them.

Being in the dark about fair housing compliance is unsettling, and always fearing that you or an employee might say or do something that will lead to a violation is no way to operate. Fair Housing Helper gives you the confidence you need to know how to handle and respond to situations in a fair—and legal—way.
FHH gives you flexibility. Read Fair Housing Helper at the office, at the beach, on your commute, at the airport, at home—just about wherever you like!

A 5" x 8" single-volume paperback book weighing less than a pound, Fair Housing Helper can fit in your bag or coat pocket so that you can pick it up when and where you like. Or pick up the eBook version for the ultimate in convenience. Since Fair Housing Helper isn't an in-person or online seminar, there's no need to devote a block of time to sitting in a lecture hall or in front of a computer. Instead, feel free to start and stop when best for you.
FHH gives you proof. Your purchase of Fair Housing Helper is solid evidence of your continuous commitment to fair housing compliance.

In the unfortunate event that you're investigated or sued for an alleged fair housing violation, your attempts to be proactive can help show judges and agency officials right off the bat that they're dealing with a professional who's mindful of anti-discrimination laws.
FHH gives you savings. Fair Housing Helper is a comprehensive program, so there's no need to supplement it with additional, costly training. That said, it doesn't mean you can't still take advantage of other types of fine training that's out there. Combining Fair Housing Helper with favorite seminars will help reinforce your fair housing knowledge and bolster your compliance efforts that much more.

With so much at stake, you can't afford not to get fair housing training—but paying hundreds of dollars for a training session or annual newsletter subscription may be beyond your budget. At under $20, Fair Housing Helper is a complete training option that's refreshingly affordable.
| | |
| --- | --- |
| | |
"Fair Housing Helper for Apartment Professionals is a thorough, convenient, and even entertaining training program. I highly recommend it to landlords, property managers, leasing agents, and other staff who need to identify—and handle—the many types of fair housing issues that can arise at a property any day."

— Liz Bramlet
Liz Bramlet Consulting, LLC
www.lbctrainingcenter.com
Washington, D.C.
Speaking of quizzes...

Question:
What do all of the following have in common?

• The Cincinnati, Ohio owner who settled for a landmark
$1,000,000 after allegedly sexually harrassing several tenants?

• The Garden Grove, California owners and managers who settled for
$211,500 after allegedly discriminating against Hispanics?

• The Fort Smith, Kansas owners and managers who settled for
$185,000 after allegedly disciminating against families with children?

• The Livonia, Michigan owners and managers who settled for
$725,000 after allegedly discriminating against African-Americans?

• The Windsor Locks, Connecticut owner-manager who settled for
$115,000 after allegedly discriminating against a tenant with cerebral palsy?

Answer:
They didn't get Fair Housing Helper.

To be fair, these folks couldn't get
Fair Housing Helper because it wasn't around.

Fortunately for you, help is now here...
and it may prove too costly to pass by!
Fair Housing Helper for Apartment Professionals
by Ron Leshnower
Published by Hillocrian Creative LLC
BUSINESS & ECONOMICS / Real Estate


Available in print and eBook formats:


U.S. trade paperback
5" x 8", 306 pages
ISBN-10: 0-9892911-0-3
ISBN-13: 978-0-9892911-0-1

$29.99
Now $19.99


Kindle eBook
For tablets/smartphones/computers/Kindle devices
ISBN-10: 0-9892911-1-1
ISBN-13: 978-0-9892911-1-8

Only $9.99 — or $2.99 with
Amazon paperback purchase!
OPTION #2:
Train in Person
Fair Housing Helper can come to you for private, in-person fair housing training. The interactive presentation covers a wide range of important compliance topics (from Fair Housing Act, Section 504, and ADA applicability and the complaint process to the mechanics of reasonable accommodation requests, accessibility requirements, familial status issues, and key state and local considerations), best practices (such as "fair-housing-safe" wording for apartment advertisements, dos and don'ts for holiday decor, and smart record-keeping), as well as reviewing specific examples of recent administrative and legal cases and other relevant issues making headlines.

An advantage of in-person training is an opportunity to get questions answered. Attendees may feel free to ask questions as they arise and at the end. Many attendees benefit from hearing the answers to these questions, not just the individuals who asked them.

Did you know?


Complying with tricky fair housing laws requires more than just common sense or an open mind. Plus, even people who aren't racist, sexist, or prejudiced in any way can violate the law—sometimes, ironically, out of good intentions.
Fair Housing Helper offers a regular and a compact training session:
A regular training session lasts roughly 2-3 hours, depending on questions.
A compact training session is scheduled for one hour. At your discretion, the compact session can either a) cover all topics as the regular session without going as in-depth or b) focus primarily on certain aspects of compliance (for example, disability), as indicated in advance.
If you are considering in-person training, for an accurate quote please indicate your needs by answering the following questions:
Where would the training take place?
Would you prefer one training session (for all attendees) or multiple training sessions (on different dates/times) for different groups of attendees?
Might you be interested in having recurring training (for new people/as a refresher) at a regular interval (for instance, every year or half-year)?
How many attendees would you expect in each session?
One attendee will receive a signed copy of Fair Housing Helper for Apartment Professionals and another attendee will receive a signed copy of Fair Housing Haiku as a door prize.
***ALL ATTENDEES will automatically earn their designation as a FairHousingHelper.com Gold Professional, which entitles them to a badge and a personalized, printable Certificate of Training to display their knowledge of and professional commitment to fair housing.***
For more information about this option, please send an e-mail with your training needs to info@fairhousinghelper.com. Be sure to include your contact information and the best time to reach you, and someone will get back to you shortly. (No obligation or commitment.)